The groundwork of the Taiwan's first education effort in Library and Information Studies(LIS) began in 1955, as an undergraduate track within the Department of Adult and Continuing Education at the National Taiwan Normal University.
To nurture advanced talents for library and information services in meeting the needs of our knowledge-based society, the University established an independent Graduate Institute of Library and Information Studies in 2002.  
In 2005, we initiated the In-service Master Program of Library and Information Studies, providing professional development opportunities for in-service library and information service practitioners, with emphasis on knowledge and skills of information technologies.
Cooperating with the University's Fine Arts Department, History Department and Chinese Department, in 2006 we launched the Digital Content and Creative Teaching Advanced Certification Program, for further promoting interdisciplinary collaboration and nurturing digital content talents.
The Institute was granted the permission by the Minister of Education in 2008 to launch the Ph.D. program, and recruited doctorate students for the first cohort in June 2009.
The goal of our Ph.D. program is to nurture innovative talents for research and leadership in library and information services, in responding to the paradigm shift of library and information research, as well as the trends in the digital society.
In 2016, GLIS at NTNU has become a member of iSchool which is an international consortium of Information Schools dedicated to advancing the information field on the broad subjects about the interaction among people, information, and technology.
Our goal lies in developing the managerial and research talents in knowledge services, as well as conducting research in knowledge preservation, organization, value creation, dissemination, and management, with the expectation to create values for knowledge users in the knowledge-based society. 
  We aim to cultivate students into roles as:
Managerial Talents of Knowledge Services Institutions
As the traditional libraries are transforming into digital libraries, the production, distribution and service environment all differ from traditional ones, and so are the required knowledge and skills. There is a lack of managerial talents in digital libraries as well as the burgeoning knowledge service institutions, and our program aims to fill this gap.
Managerial Talents of learning Resources Centers
Design and development of learning resources centers contribute to academic development and educational reform. Talents for learning resources centers must have knowledge and skills of library management, as well as knowledge of learning support, team teaching and information literacy.
Corporate and Institutional Knowledge Management Talents
The core value of library and information studies is to promote knowledge management at the personal, institutional and societal levels. Therefore the Institute aims to cultivate talents who not only excel at scholarly knowledge management, but also value the needs of business and organizations. Such managerial talents are expected to undertake the task of organizing business knowledge and applying information technologies.
Managerial Talents of Digital Content
The Institute has achieved in developing projects of digital preservation and e-learning. In addition to educating talents for creating and managing digital content, our program also aims to nurture managerial and administrative talents who have interdisciplinary knowledge backgrounds and research skills.
Teaching and Research Talents in Library and Information Studies
For enhancing the quality of teaching and research in library and information studies field, the Institute has been actively cultivating outstanding teachers and researchers in this field. We expect those talents to possess international perspectives, empathy in humanity and technological lense.  Especially through our doctoral program, we cultivate students to conduct interdisciplinary, influential and original research, as well as to possess the capability of international teaching and research collaboration.
The research development of the Institute reflects the core value of library and information studies: promoting knowledge management at the personal, institutional and societal levels.
We have been teaching and conducting cutting-edge research in the following three major areas: knowledge organization, information behavior, and information distribution.
Research on Knowledge Organization focuses on the characteristics, collection, and organization of information. Research on Information Behaviors concerns users' behaviors of acquiring, seeking and using information. Research on Information Communication emphasizes the interaction among technology, society and communication.
Based on the three major research areas mentioned above, we incorporate relevant subject fields and develop corresponding applications, including Digital Collections (digital library) and Electronic Publishing for promoting knowledge retrieval and utilization, Information Services and Scholarly Communication for enhancing knowledge sharing, as well as E-Learning and Information Literacy for building a knowledge society.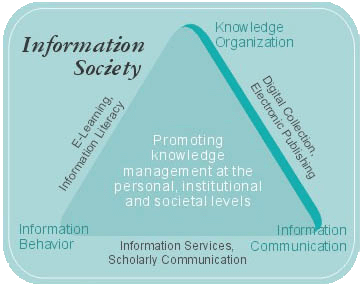 .Chart of Areas of Research and Development
In addition to the above-mentioned cross-disciplinary research areas, the Institute also excels and promises to cultivate in the following domains:
1.Digital Collections and Electronic Publishing
Digital collection becomes an important subject matter as we are entering an information era. The goal of digital collections is not only archiving analog and non-digital data with digital approaches, but also sharing information through modes that better meet user needs.  Moreover, reading is undergoing a dramatic change, moving from critical reading to leisure reading; from paper-based reading form to screen-based reading; and from static to dynamic.  Electronic technologies have led to media convergence and changed the industrial chain of traditional information services. This phenomenon has blurred the boundaries among the downstream, midstream and upstream of information services, as well as the boundaries among electronic publishing and relevant industries. Knowledge and techniques concerning digital content management, such as Metadata, XML, RDF, and Ontology, contribute a lot to the application of digital libraries and represent as common standards among the fields of electronic publishing, digital collections, and e-learning. Library and Information Studies should treat electronic publishing, digital collections, e-learning and digital libraries as the same series of knowledge and an important research direction.
2.Information Literacy and E-Learning
The research scope of library and information studies lies not only in preservation, but also in the equality of distribution, acquisition, usage and creation of human knowledge.  New information literacy skills are urgently needed in the age of digitalization, as information transforms from traditional print media to digital forms.  Our institute aims to assist users in the new age to acquire new skills and attitudes, in response to today's digitalized, Internet and personalized information environment.  The future trend will be to develop service modes that meet users' learning needs.  We have to keep this in mind as we include information literacy and e-learning together as an important development direction within the field of library and information studies.
3.Internet Technologies and Web-based Information Services
The vigorous development of Internet technologies and information services has created enormous impact on knowledge organization, information behaviors, and information dissemination, with no exception on knowledge management at the individual, organizational and societal levels.  Relevant Internet technologies have been extensively applied to knowledge management, from database management, information retrieval, data mining, to semantic web and information architecture.  Moreover, Internet technologies and information services are heavily used for electronic publishing, digital preservation, e-learning, and digital libraries.  Our institute mainly focuses on the following two areas of Internet technologies and information services: (1) the discussion on LIS-related standards of Internet technologies, including SOAP, SRU/W, Open Search, DOI, OAI-PMH, OpenURL, and so on; and (2) the appropriate use of Internet technologies and information services in the context of knowledge management and library and information studies.
Our institute encourages students to take part in international exchange activities and professional internships. Regarding the internship, students are required to participate as intern at LIS –related service institutions or industry before graduation, in order to better understand the professional needs at work, and explore more career opportunities. As for the international exchange activities, our institute has created various international channels of academic exchange, equipping our students with diverse international learning experience.
For example, we continue to partner with the Southern College in Malaysia, sending an average of 10 students abroad to serve and learn at various libraries of junior and senior high schools in Malaysia in summer.
We work with the libraries at the University of Wisconsin – Milwaukee (UWM) and the State University of New York-Albany (SUNY) to build up professional internship channels, offering students the opportunities to intern at the academic libraries in the U.S. Two students had been interning at SUNY-Albany in 2009, and regularly four students will be going to UWM for their internship since 2010. Besides, we also sign the Memorandum of Understanding with several LIS programs in the U.S., including the School of Communication, Information & Library Science at Rutgers, the State University of New Jersey, and the School of Information Studies at the University of Wisconsin-Milwaukee, in hoping to co-develop and launch various projects together, including distance learning, students exchange, as well as independent study.
In addition to offering students the diverse learning opportunities mentioned above, we also provide our students scholarships for traveling overseas and attending conferences abroad. Our students successfully attended the ALA, IFLA, ICADL, IASL, ASIS&T, and so on. Through the various academic and scholarship opportunities mentioned above, our students could obtain various international training opportunities, thus accumulating more international exposure.
TEL:886-2-7749-5427
Fax:886-2-2362-0951
Email:glis@deps.ntnu.edu.tw
P.O. Box: 
10610 No.162, Sec. 1, Heping E. Rd., Taipei, Taiwan (ROC) 
Graduate Institute of Library & Information Studies, NTNU
Office Address: 
Jheng Building 5F, NTNU, No.162, Sec. 1, Heping E. Rd., Taipei City, Taiwan (ROC)